Basic + Planner Package (for a Saturday/Peak):
Price Ranges from $11,725
For Up to 150 guests
Basic Package (for a Saturday/Peak):
Price Ranges from $9,550
For up to 150 guests
All Inclusive Package (for a Saturday/Peak):
Price Ranges for 100 Guests: $29,356
Price Ranges for 150 Guests: $34,027
Price Ranges for 200 Guests: $37,436
Price Ranges for 250 Guests: $41,046
OUR PACKAGES
We have three different packages as well as A La Carte items that can be added to any package to allow you to customize your event into the perfect day.
DECOR CLOSET + VINTAGE RENTALS
On your wedding day, you pay attention to all the final touches – make sure to add the most elegant decor. Or maybe you're going for a sweeter, southern flare of vintage furniture to dress up your design.
We offer a fully stocked decor closet with vases, votives, lanterns, signs, and much more to save you from the hassle of collecting items you may never use again (who needs 50 glass vases anyway?!) and various vintage and Victorian decor items to include mismatched or ivory + gold rimmed china, settees, love seats, wingbacks, vanities, etc. that can be added on separately.
SOUTHERN SKEET SHOOTING
Don't forget about your man! There's always so much the bride and her ladies have going on the day of the wedding, but what are the guys supposed to do? The groom and his buddies (& ladies if they're up for it!) would love it if you'd surprise him with day of skeet shooting. All ammunition, clay pigeons, & firearms are provided and it last until the supply is gone. Get at least 6 people together, and this is the perfect adventure to get out some of that adrenaline, have some fun, and relax before walking down the aisle.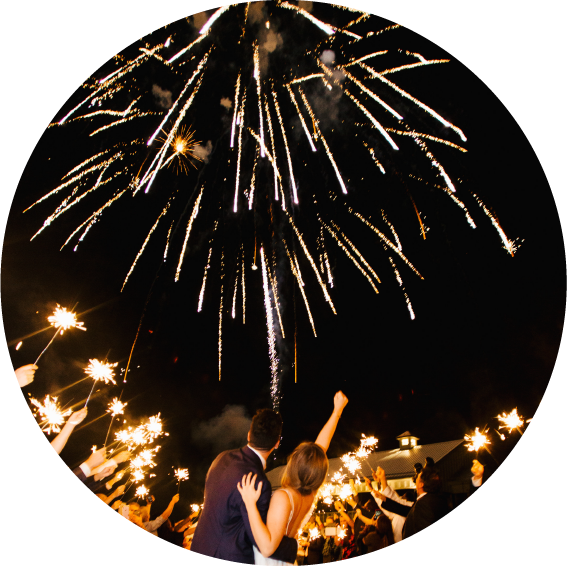 FIREWORKS (Display or Fountain available)
Where you want to wow your guests with a grand exit as Mr. & Mrs. or you simple want an amazing photo-op that you'll never forget, leave with a statement by adding fireworks to your newlywed send-off! Two options available: Display and Fountain Fireworks. Contract must be reviewed prior to added, and specifics of each apply.
For a full list of our A La Carte items to include but not limited to: Bar chalkboard customization, purity doves, bridal yoga and more please contact us here or see view them all here.
We also have a list of Frequently Asked Questions that you can find here, to review as your making plans for your BIG day.
---