The story of their engagement from the future Mr. & Mrs. Champion.
Derek and I headed to Lake Jocassee after church on October 16th for a day of fishing and leaf-looking. On the way to the lake, nothing seemed unusual.. This is our normal Sunday afternoon routine. As we pulled up to the lake, Derek pointed out that Chuck was at the lake as well. Once again, there was nothing unusual about this.. after all the lake is their home away from home. Derek and I unloaded the boat and headed out onto the water. The week prior to going to the lake, Derek told me about a waterfall where he was wanting to fish. He said he had seen some big fish at the waterfall during practice.
We pulled the boat up near the waterfall and Derek casted around some trees a couple of times and then edged nearer to the waterfall. Because of the depth of the water near the falls, Derek used his Talons to anchor the boat directly in front of the waterfall.. a beautiful view. I was sitting in the seat, completely unaware of what was going on when Derek pulled another rod out of his rod box. Derek said 'come here for a minute', and I thought that he wanted to show me a fish. As I walked up, Derek laid the fishing rod down and began to slide the ring that I used to wear on my wedding ring finger off. At this point, it hit me and I began to cry.
'Derek asked me to be his wife and I, of course, said yes.'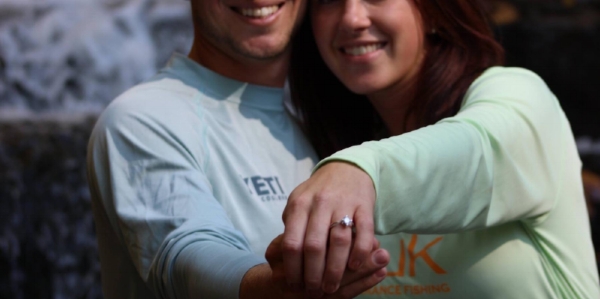 After a moment of celebration, Derek informed me that Haley was in the woods taking pictures of the entire proposal and that Chuck was in the next cove over and had been at the lake for hours to ensure that everything would go as planned. Needless to say, this made me cry even harder. We picked up Haley, decked out in her camo to ensure that I would not see her in the woods and get suspicious, and headed to meet Chuck. At this point, I found out that Chuck had been blocking the waterfall to make sure that we had the cove to ourselves for the proposal, and I learned that this had been in the works for weeks.
We headed to another waterfall on the lake and had a mini-engagement shoot with Haley as our photographer.. I am so thankful we were able to capture pictures from this day. Then Derek and I decided to fish around the lake for a bit.If I leave this part of the story out, Derek just might kill me ;). We headed to the area that Derek had actually seen the fish at the week before and Derek began casting again. On his third or fourth cast, he hooked a 5-6 pound fish and brought her on into the boat. Needless to say, Derek was excited.. An engagement and a big fish all in the same day. This would seem like the perfect ending to our day… But there's more.
After taking pictures with the fish, we headed home because Derek told me that his mom was cooking dinner. As we pulled into his driveway, I noticed that my parent's car was in the driveway too. They had arranged a small celebration of our families that evening with my parents, Derek's parents, and Haley and Miles. We celebrated with some of our favorite food, good conversation, and a fire to end the night.
Our proposal was truly perfect and I am forever grateful to everyone who was involved to make October 16th so special to me. Now the countdown is on to spending a lifetime with my best friend.